Axiom
Axiom is an on-demand corporate legal talent provider. They asked us to partner to create the future vision for their product—while also optimizing the current flow to help lawyers get hired faster.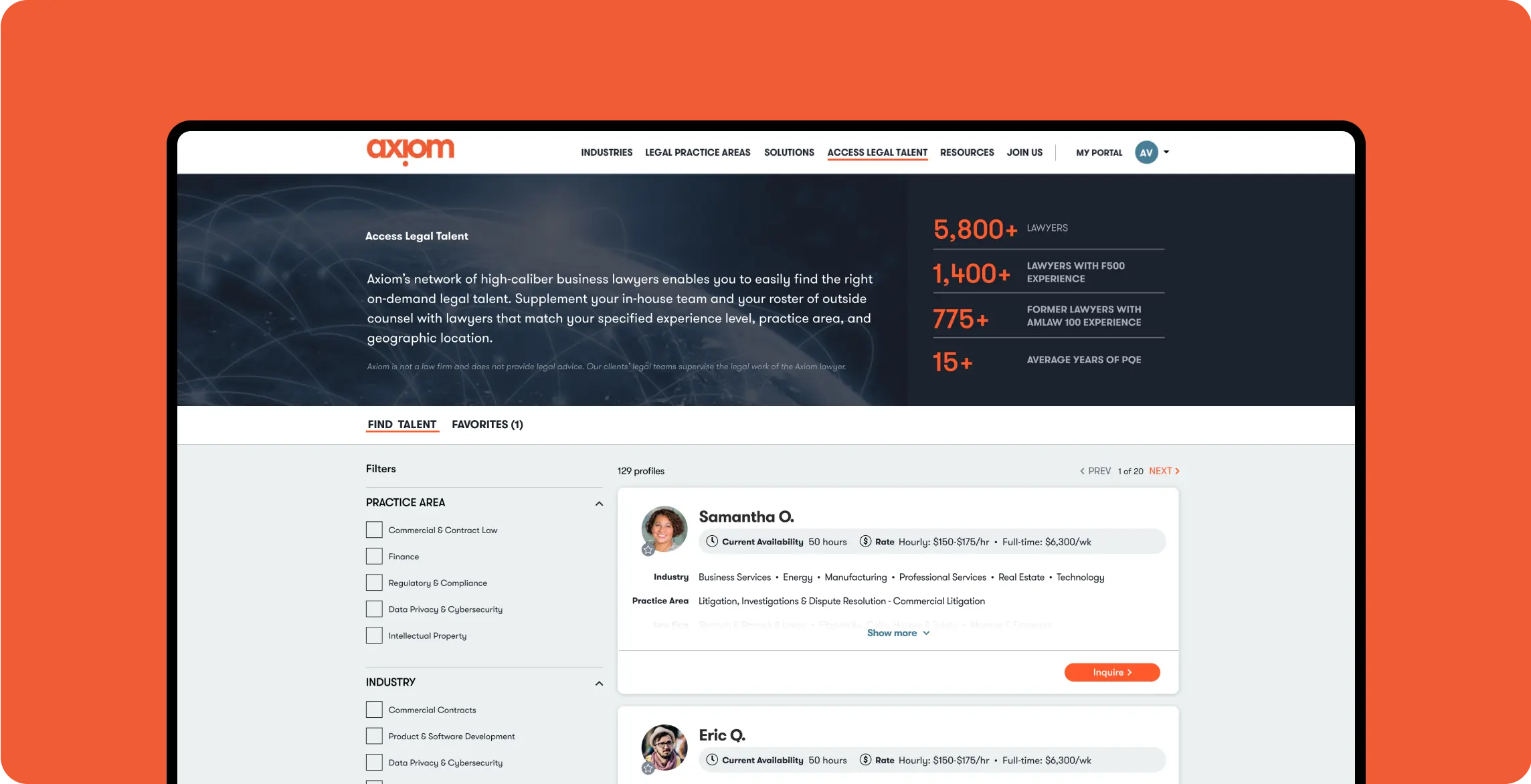 The key insight
Current Axiom talent values the flexibility of freelance, but they often worry about future gigs and feel disconnected. For prospects, they typically have to wait several days to be verified during which time they often jump to other sites.
The bold strategy
We developed a new product vision that moved the experience from reactive to proactive and from solo freelancer to community member. We also innovated a way to speed up the onboarding that still worked within their business requirements 
Digitalization has transformed our mindsets from reactive (letting a travel agent plan our trips) to proactive (planning out our own journeys). We redesigned the Axiom experience to empower lawyers to become more proactive, letting them seek out opportunities instead of waiting for them to show up in their inbox.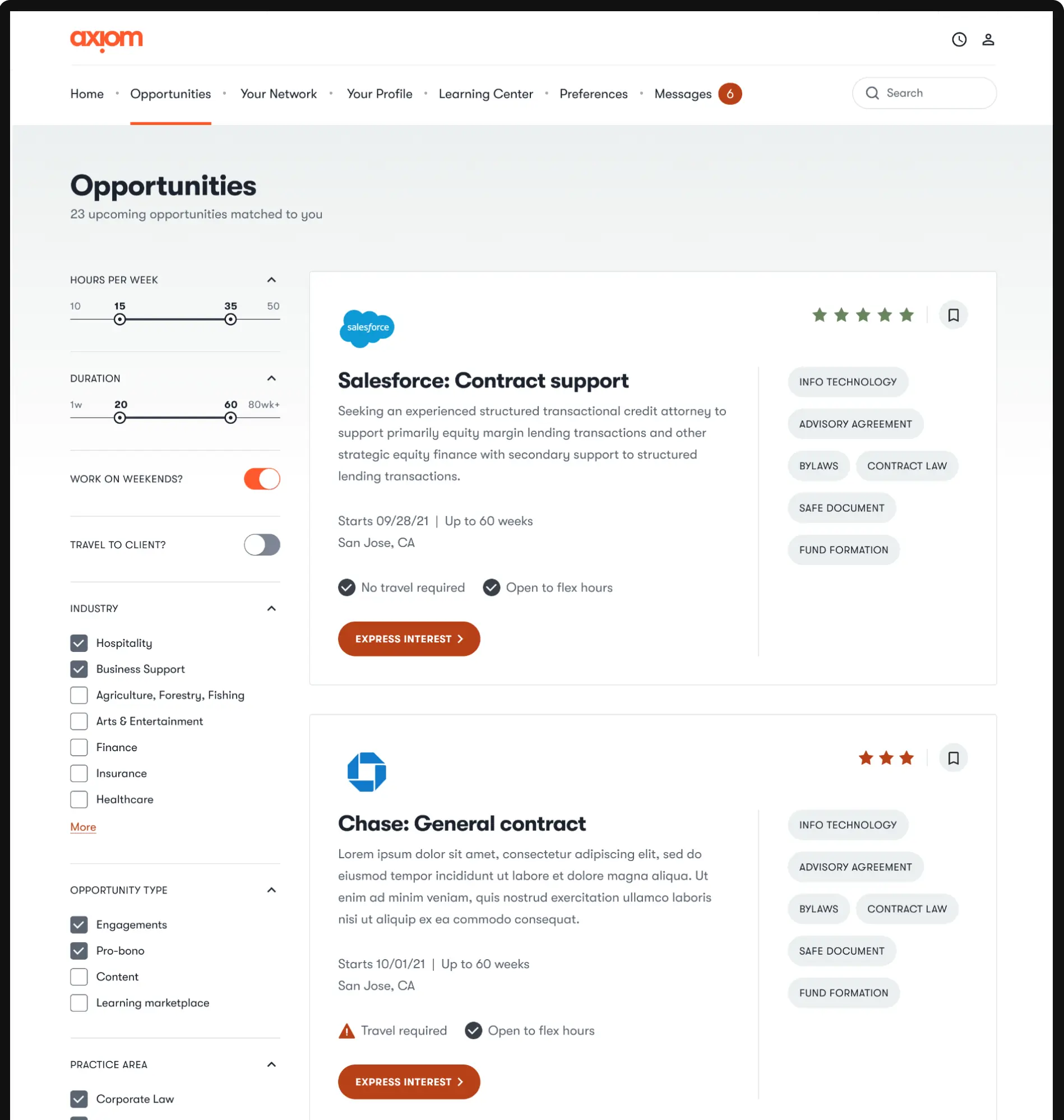 Previously, clients had to wait to be verified before they could inquire about a lawyer. We innovated a new process where clients make inquiries right away while the verification was still happening in the background. This allowed clients to move forward while still meeting the business requirements.
The community paradox
While other people on the platform represent competition, online communities are powerful ways of advancing your career—and feeling like you're part of something bigger. We designed a platform where lawyers can teach, learn, mentor, and socialize with other Axiom talent.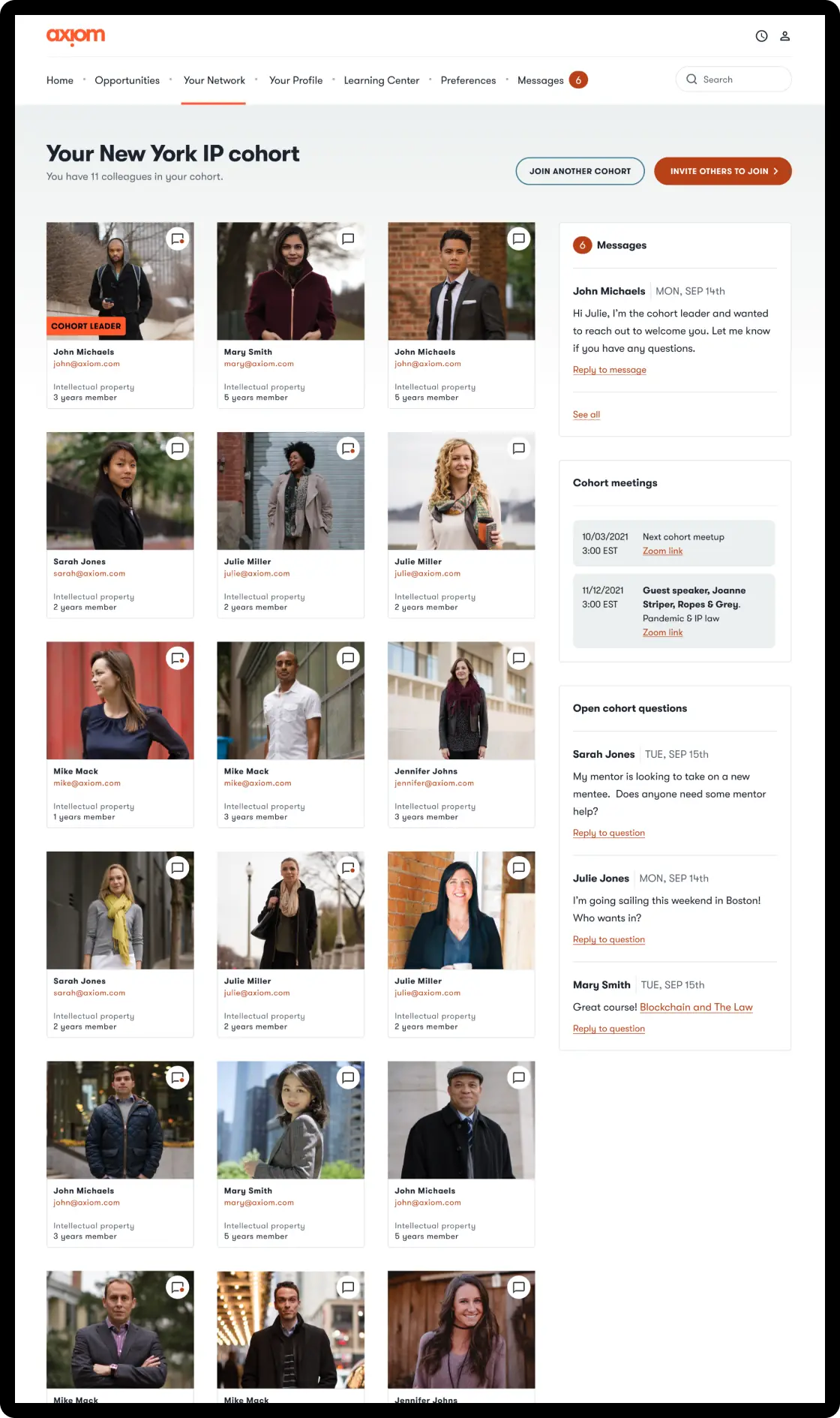 Easy to browse and dive deeper
We listed the lawyers vertically and exposed only the most important information that clients cared about — making it easy to quickly compare and scroll through. We also let clients click to see more without leaving the list — so they could make a decision without looking at a bunch of profile pages.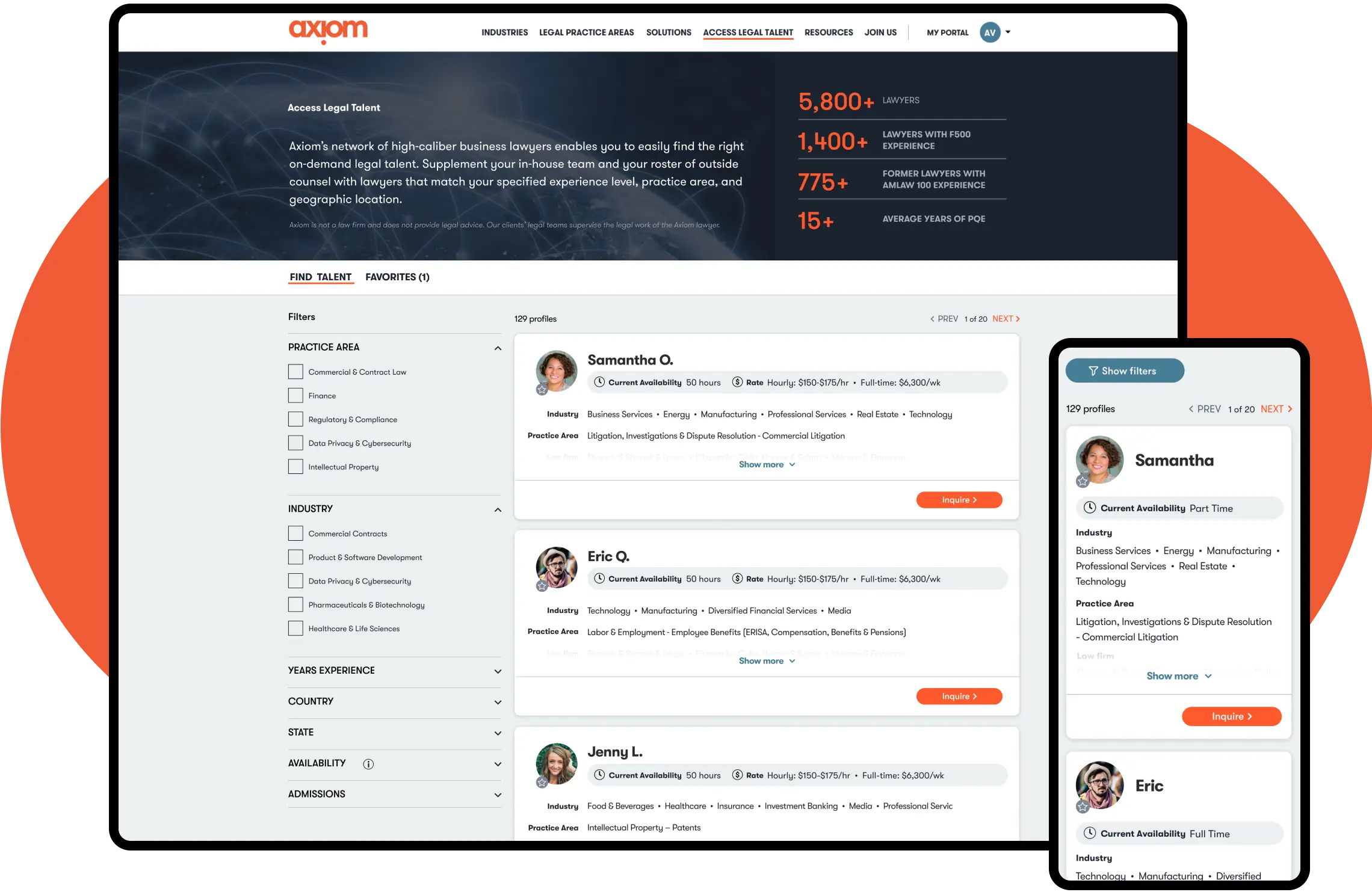 I strongly recommend Boldium. They take time to understand your business and provide value every step of the way from ideation to execution.

—
In a previous iteration, clients had to wait to be verified before they could inquire about a lawyer. We simplified the flow to let clients request to talk to lawyers right away. The verification still happened in the background, and when successful, an Axiom rep could immediately work on scheduling a time that worked for both client and lawyer.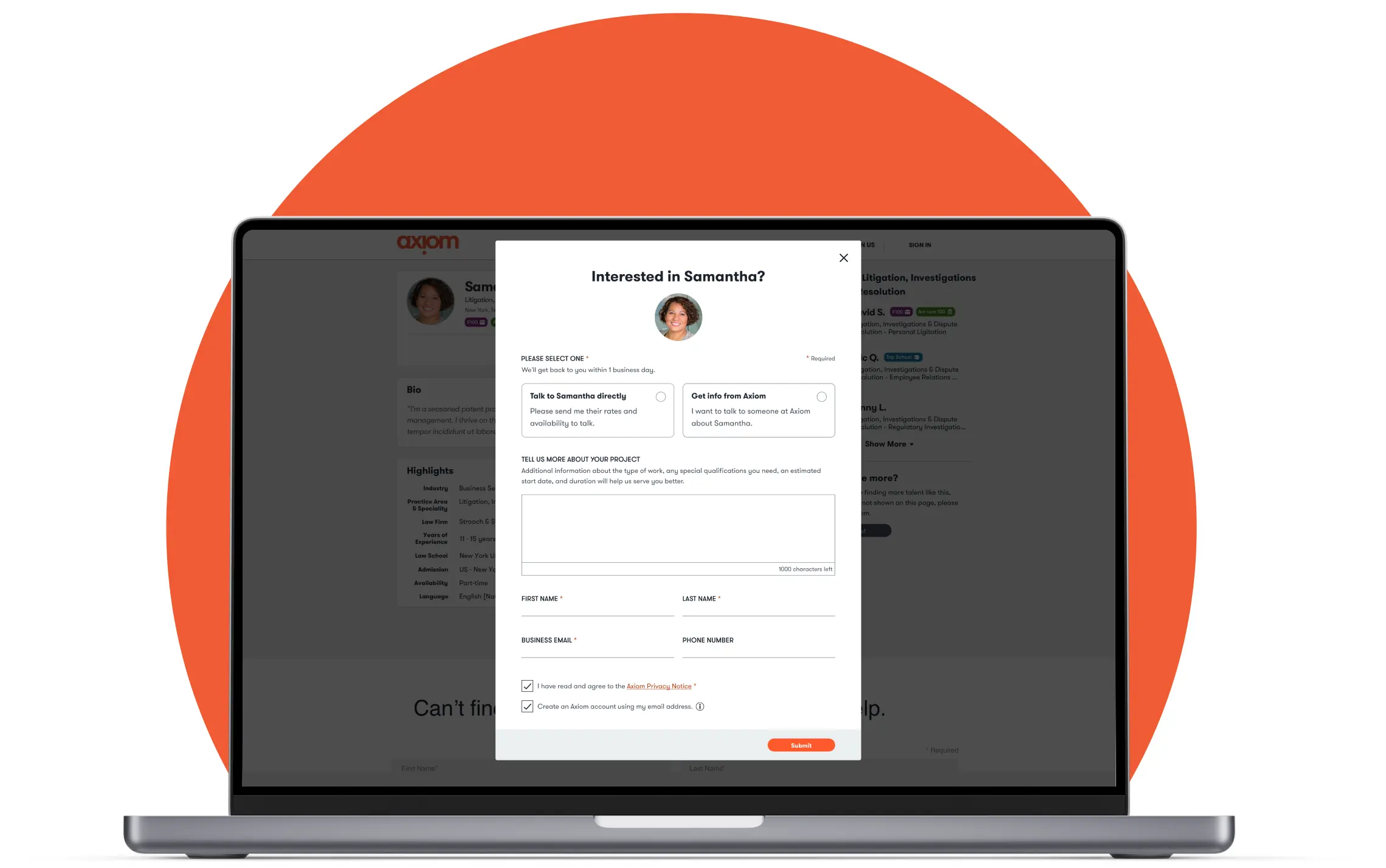 Profiles that pop
Once clients are verified, they are able to see more information than the list view can provide. So we crafted lawyer profile pages that give clients the resume-level detail they're looking for — and give lawyers a personal website of sorts for sharing their professional credentials.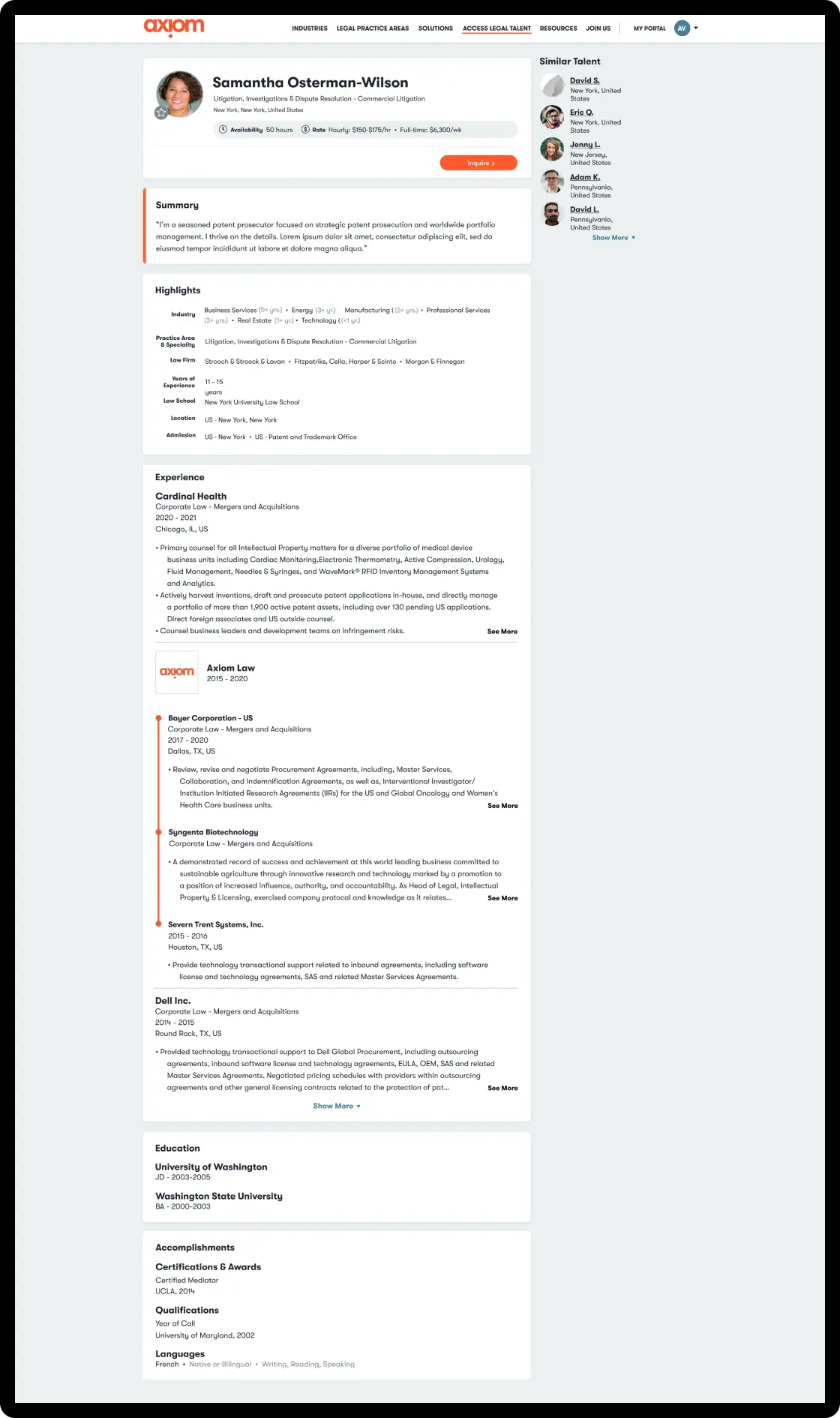 Boldium created a seamless partnership, forging new ideas that effectively shaped our product strategy.

—
Strategy
Strategic vision
Presentation
Design
Creative Direction
UI/UX Design
Research
Competitive analysis
Survey analysis
Qualitative interviews
Content
Website content strategy
Website copywriting